I've noticed recently that the National Day banners have gone up all over Singapore, proudly bearing the
theme for this year's National Day Parade
: "Come Together".
"Come Together".
In an age of rampant internet porn and off-colour humour, I'm really,
really
surprised that this passed committee.
I mean, it's "Come Together", not "Let us come together" or "Come together to celebrate ...". And even though the full theme is "Come Together --- Reaching Out, Reaching Up", I'm not sure the subtitle improves anything.
Also, the
official logo
makes it really all about, well, you know: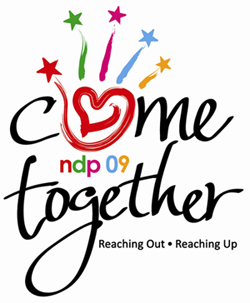 Plus: note all the bursty stars.
Insert your own joke here.
Labels: Singapore stories, Words words words