It's
International Museum Day
today, which meant free admission at quite a few museums, which meant I really had to get off my ass and go see all those art exhibitions I'd been talking about.
Step 1: Find a friend who would be equally keen in seeing some artwork on the weekend.
Step 2: Make plans around
his
schedule, so that I won't feel that it's one of those wishy-washy slash "flexible" arrangements that I can bail out on. Even if it means meeting him at 9:30 on a Saturday morning.
Step 3: Go go
go
!
Our first stop was the Matthew Ngui retrospective,
Points of View
, at the
National Museum of Singapore
. I hadn't seen much of his work before, so it was cool to wander around a darkened space, looking at videos and installations that seemed to be all about fragmentation and deconstruction. My favourite piece:
Swimming: at least 8 points of view
.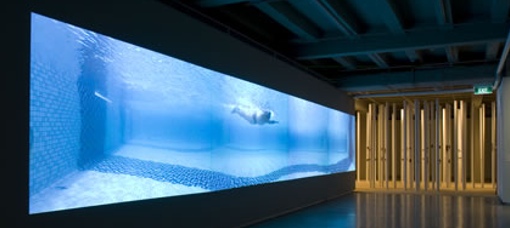 Image taken from The Kakiseni Blog
Next, we cut across SMU to the
Singapore Art Museum
, which was sadly much less populated, even though it was free admission there too. I wanted to see the Alberto Giacometti exhibit, because I'd stumbled across quite a few of his sculptures during
my museum rambles in Paris and London
last year and liked them very much indeed. As it turns out, the visiting exhibition here consists mostly of his pencil sketches, which are nice too but not as fun to look at as the sculptures.
Since we were already at the museum and they had a whole bunch of other stuff for us to look at, we ended up wandering from room to room at random, seeing Xu Beihong, various Southeast Asian artists and a whole dollop of contemporary Vietnamese artists who were probably the most colourful of the lot. Ironically, the Vietnamese art galleries were the most deserted in the entire museum --- yet they were also the most interesting (to me, anyway). Note to self: visit more art galleries the next time I'm in Vietnam.
Because the museums were having free admission, there were more people than usual for a Saturday morning. Nevertheless: the parents at the National Museum were all making a beeline for the child-friendly
Mozart: A Child Prodigy
exhibition (we didn't bother going in because it was so crowded we'd've had to take a number and wait our turn). I saw less than five kids in the Matthew Ngui exhibition right next door; ditto in the entire Singapore Art Museum.
I know that "kids" and "modern art" are terms that don't generally occur in the same sentence (unless the sentence is a dismissive "A lot of modern art looks like it was made by kids"), but the only way kids will get less afraid of art they don't immediately recognise or understand, is if they have the chance to run around, look at it for as long (or as short) as they'd like, and go away knowing that they don't have to fully "get" its "meaning". While I was predictably grumpy as a kid whenever my parents schlepped me off to some art exhibition, seeing all kinds of weird (to my pre-adolescent eyes) shit went a long way towards normalising the idea of visiting a place with artwork.
I still don't get most of what I see, but I like looking at it and
I know it when I really,

really

like it
.
International Museum Day activities continue tomorrow and Monday. No more free admission, alas, unless you happen to be a senior citizen, but there's still plenty going on. I might pop by the Viet Fest as the
Asian Civilisations Museum
tomorrow, to see if I can ferret out a fresh spring roll or two ...
Labels: Singapore stories