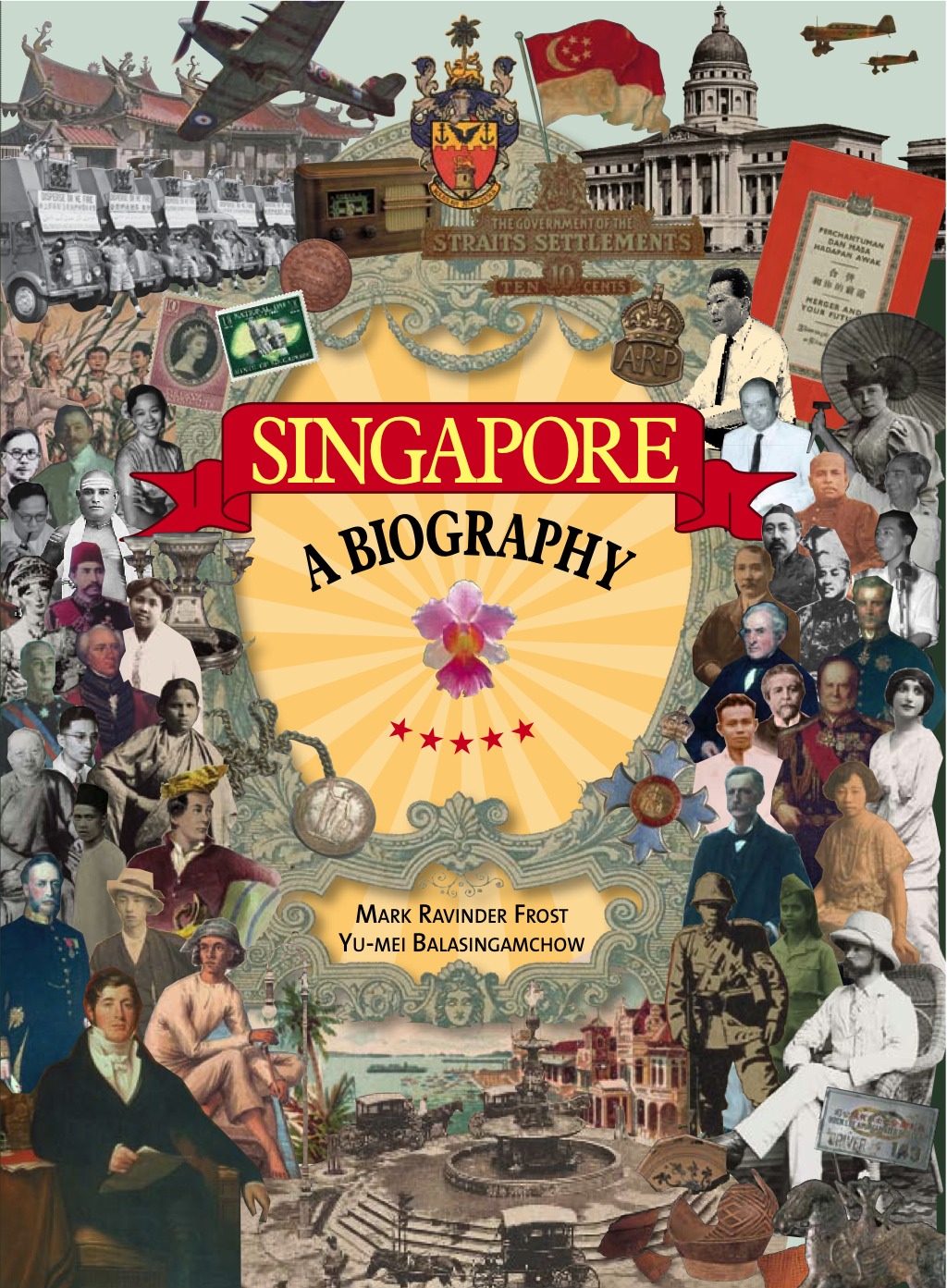 Singapore: A Biography
by Mark Ravinder Frost & Yu-Mei Balasingamchow
Ladies and gentlemen, may I humbly present to you the book Mark and I have been working on for the past two years:
Singapore: A Biography.
After we worked together on the
Singapore History Gallery
of the National Museum of Singapore in 2006, we proposed turning the material into a book --- a lively, substantive yet eminently readable book that would do justice to the stories and make people, you know, dig Singapore's history a little more. Our narrative kicks off in the Temasek period (13th century) and winds up around the 1970s. Yes, we've got Raffles and Lee Kuan Yew, but a whole lot more as well; just take a look at the people I name-checked in a
recent post
on the book website.
Anyway, writing this book took, um, a little longer than we bargained, but the book is at the printer's as we speak and our publisher has promised that I will have crisp new copies in my hands in one week's time. Hurrah!
If this sort of thing interests you, please come and hear us talk about history, literature, Singapore and our book at the following events:
Sun, 18 Oct 2009, 2pm, National Library: "History as literature: the writing of

Singapore: A Biography

" (registration required)

Tue, 20 Oct 2009, 7.30pm, Polymath & Crust: "

Singapore: A Biography

– a reading & discussion"
Sat, 24 Oct 2009, 2pm, National Museum of Singapore: "Heroes, villains and ordinary citizens: a short history of Singaporean dissent" (registration required)
Sat, 31 Oct 2009, 11am, Singapore Writers Festival, at Earshot, The Arts House: "Finding the Singapore Story"
For more event details, check out this lovely
e-direct mailer
(thank you,
ampulets
!).
If you're in Singapore, you should see the book in stores in about 10 days or so. Outside Singapore, the book is schedule to hit Hong Kong, China and Australia in late October. It'll be distributed in the US and the UK in early 2010. For pre-orders (20% off retail price, i.e. S$40 instead of S$50 for a hardcover 400-page book) or other inquiries, please
contact me
.
Am I excited? Oh
yes
. I think I will squee when I first see the book, and possibly a few more times after that. I was just reading several sections aloud to myself today (test-driving them for the upcoming readings) and I'm so pleased with the book turned out.
Please tell your friends and please come to a book event! We promise to pronounce "Farquhar" correctly.
Labels: Singapore stories, Singapore: A Biography, Words words words