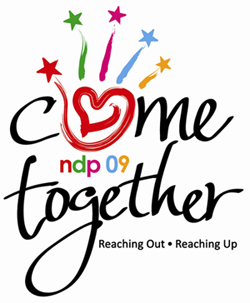 So I watched the National Day Parade (NDP), because I was staying home to write anyway, and I'd been told that with Ivan Heng as the parade's creative director, there were gonna be pole dancers and Koh Chieng Mun singing "I Will Survive".

As it turns out, this was all the writing I managed to do.

5:55 p.m.
Time to switch on the TV. Oh look, it's Anthony Bourdain waxing lyrical about Singapore food on Discovery Travel & Living. A very appropriate broadcast for National Day --- except that he's swigging down Heineken instead of Tiger.
5:57 p.m.
Bourdain's done; over to Channel 5 for the parade telecast. Except that before that starts at 6:15 p.m., it's the prime minister's National Day Message. Clearly, this is why the mute button was invented.
6:08 p.m.
Every time I glance up, the Prime Minister looks like he's trying really hard to perform for the camera. Which is, you know, a lose-lose proposition.
6:09 p.m.
Oh good, it's over. But I'm still muting the simpering National Day song that they're playing next.
6:20 p.m.
Everyone loves parachutists.
6:23 p.m.
There are
commercial breaks
in the telecast of the parade?! [
Edited to add
: It turns out this was the only one.]
6:26 p.m.
Good thing the sound of helicopters flying back for the parade drowns out the commercial break.
6:29 p.m.
I always like watching our politicians to see what they make of all this. Especially Uncle Lee.
6:30 p.m.
Look! Our Members of Parliament can strike a drum-like toy in sync!
Here comes the Cabinet. Do they always walk through a public area where they can deliver handshakes? Reach out and
come together
, yo.
6:32 p.m.
They're playing
Singapura, O Singapura
as Lee Kuan Yew and Goh Chok Tong enter. It's not quite the same without the rousing military fanfare.
The commentator says something like: "Lee Kuan Yew ... 85 years old ... still lending his expertise to the nation ... Goh Chok Tong, our prime minister from 1996 to 2004." Hm.
6:33 p.m.
Birthday greetings from around the world. *mute*
6:35 p.m.
Lee Hsien Loong gets what
mr brown
would call "ooom-ch'-ooom-ch'" music. I
really
miss the military fanfare.
6:39 p.m.
I heart the giant Sang Nila Utama puppet. It reminds me of that that old German
Telematch
TV show they showed on Channel 5 in the 1980s, with competitors in colourful costumes running around the field with joker puppets and other giant props.
6:41 p.m.
Sisu
is very curious about those helicopters hovering outside.
6:42 p.m.
Sang Nila Utama looks a little, um,
Caucasian
.
6:43 p.m.
I also heart Singa the courtesy lion. He needs to have his own TV show. Of course, his
Twitter
is good too.
6:45 p.m.
"Line-dancing lion dancers" ---
of course
the pun is intended. Who wrote this script?
6:46 p.m.
Holy crap, in what universe is it cool to include terrorists and simulated chemical attacks in the National Day Parade? Did the parade only take half an hour to jump the shark?
6:48 p.m.
The audience looks a little dumbfounded at the simulated terrorist attack. Bring back the parachutists and Black Knights!
6:49 p.m.
Now there are Navy boats chasing "bad guy terrorists" on jetski past the Merlion. I feel like I'm at an SAF Day show, not the
National Day Parade
. Bring back the marching contingents and guard of honour!
6:50 p.m.
It's not exciting to watch people get chased when a) you know the inevitable outcome and b) there are no Black Knights involved.
6:51 p.m.
Ooooohhh ... Wagner's
Ride of the Valkyries
for the Chinooks' arrival. I am seeing
Apocalypse Now
in my mind.
6:53 p.m.
Underwater camera footage of the rather cool Navy divers, though they look less cool when it looks like pre-shot (not "live") footage meant for a computer game.
There are so many video clips in this "parade", I'm wondering why they didn't just make a feature film and be done with it.
6:55 p.m.
Ah, armoured vehicles rolling into the parade square. It's like an amped-up version of the 1969 parade, when Singapore rolled out its very first tanks.
6:55 p.m.
Naval divers approaching the politicians' seating area with weapons. If this were a movie with Bruce Willis, someone would be getting shot any second now.
6:56 p.m.
Stop referring to them as military "assets". It just sounds stupid.
6:58 p.m.
The SIMULATED TERRORIST ATTACK (it really merits the caps) is over. I hope they bring back the Sang Nila Utama puppet.
6:59 p.m.
Drummer boys are always cool.
7:00 p.m.
Yay, parade
commander
Regimental Sergeant Major!
Cepat jaaaaaaaaalan!
Owwwhhhhh ... the parade contingents have to sing a cheesy song as they march in. O the indignity.
I have been reliably informed that the crazy shit happens between 7:30 and 8:15 p.m.
7:04 p.m.
The traditional marching contingent bit of the parade seems to be in full swing (and no more singing, whew). This has always been my favourite bit.
7:07 p.m.
We interrupt this perfectly delightful parade marchpast to wonder, why is there a giant eye-shaped screen looking down on everything? It's a little creepy and cult-like.
7:10 p.m.
The President arrives. He does
not
get "ooom-ch'-ooom-ch'" music.
7:11 p.m.
It's the
Majulah
and I'm too lazy to get up from the couch.
Ink
is standing up, though (he wants food).
7:16 p.m.
I've always wondered what small talk the President makes with the soldiers he stops to chat with in the guard-of-honour contingents.
7:19 p.m.
Talk about distortions of reality. The commentators just said President Nathan is "well-loved by every Singaporean".
7:20 p.m.
The
feu de joie
is one of those things better appreciated at the event itself.
7:25 p.m.
The Marina Bay venue isn't grand enough for our marching contingents.
7:28 p.m.
After the SAF marches off, comes the Singapore Civil Defence Force, then the People's Action Party, "the first of our civilian contingents," said the commentators. Hm.
Followed by
SembCorp Marine
. "Economic defence is what they're representing." Double-hm.
7:31 p.m.
After a slew of uniformed youth organisations, comes
CapitaLand
. *boggle*
7:33 p.m.
So the civilian contingents consisted of representatives of:
the ruling political party
SembCorp Marine, which is part of the government-linked company SembCorp Industries
a group of teenagers in the Scouts, Girl Guides, various first aid and paramilitary organisations

Capitaland, "one of Asia's largest real estate companies"
the National Trades Union Congress
What. The. You-know-what.
7:37 p.m.
Traditional dancing ensues. I never have strong feelings about this part.
7:40 p.m.
Peranakan Chinese culture "is being represented here for the first time!" Delivered by a bubbly commentator with no trace of irony.
The giant puppets in the audience are pretty cool. More
Telematch
, less terrorist attacks!
7:43 p.m.
There are green Barneys! (Okay, they're supposed to be crocodiles.)
7:44 p.m.
Cheesy Chinese music with psychedelic costumes. Now
this
is what the National Day Parade oughta be about.
7:46 p.m.
And then there were
Singapore Girls
and disco music. Embrace the kitsch. Pity they cut it before the line "play that funky music, white boy".
7:47 p.m.
Oooh, "
Shout
"!
7:48 p.m.
Music remix tracklist:
"Tell me what you want, what you really want"
"Free your mind"
"Everybody dance now"
"Macarena"
"Come on, vogue"
[Pole dancers acrobats!]
"I like the way you move"
And then cue old-school Uncle Lee.
Perfect
.
7:54 p.m.
Traditional
pipa
music with a modern beat and robotic dancers to represent
Total Defence
.
7:57 p.m.
Koh Chieng Mun does "I Will Survive" with Military Police doing their awesome gun drills around her. She should've had more airtime.
7:59 p.m.
Okay, the kids doing "When I grow up, I want to be ---" was pretty sweet.
8:00 p.m.
Uh-oh, mopey National Day songs. Time for a bathroom break.
8:04 p.m.
Wong Kan Seng has funky new glasses. Lee Kuan Yew looks --- I
really
wonder what's going through his mind.
All the musical medleys in the world cannot save truly crappy National Day songs from years past.
8:05 p.m.
The heart-shaped mass display formation and heart-shaped balloons floating up to the sky makes me wonder why we don't do something like this for Valentine's Day.
8:06 p.m.
An old news clip of Prime Minister Lee Hsien Loon reminiscing about the very first 1966 parade. Ah, the good old days, when if you didn't have heart, you didn't have nothin'.
8:12 p.m.
A float! That's old school.
8:13 p.m.
Nice juxtaposition of sports heroes old and new, Li Jiawei (did I get the name right?) vis-a-vis Fandi.
8:15 p.m.
There's an awful lot of nostalgia in this year's video footage.
8:19 p.m.
The camera sweeps across the front row of politicians during "Stand Up for Singapore" and I'm thinking, it's an awful long time for some of them to be standing up.
8:20 p.m.
There are now so many National Day songs, the medleys can go on for more than 10 minutes and counting, even with using only short bits of each.
8:23 p.m.
When the
evil eye
screen flashed "The pledge --- you know the words", I really thought they were going to go through with
not
showing the words on the screen. After 44 years of indoctrination, people ought to know the damn pledge.
Ah, the arrangement of the National Anthem that just might be the least martial one yet.
8:25 p.m.
Clearly,
fireworks
are the key element to getting everyone psyched up when they take the National Pledge and sing the National Anthem.
8:28 p.m.
And we're out. I wonder if there's a giant dance party at the parade venue now. That seems appropriate.
Labels: Singapore stories, Twitteresque