The National Heritage Board (full disclosure: I work for them from time to time) is having a "
heritage star blogging competition
", which asks people to write about a heritage-related topic or a museum visit. Aside from the cringe-worthy name of the competition, or the fact that it
is
a blogging competition at all, I'll allow that it's well and good to get people interested in writing meaningfully about their history or sense of identity. I even thought of taking part for the hell of it, seeing as I regularly write about
museums
or
being Singaporean
anyway.
Until I got to the part where I read that to qualify for the competition, one has to insert the "
Brag Badge
" on one's blog.
The term "Brag Badge" instantly set off alarm bells in my head (it sounds like something out of a Bratz product line), but even it hadn't, I took one look at the badges and decided that this was a deal-breaker.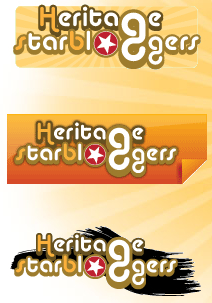 Forget it
.
No way
was I sticking anything that ugly on my blog, just to enter a competition. (Yes, I did it here to illustrate its ugliness, but the above is a screencap from the competition website and doesn't link back to the competition.)
I understand that they need a way to track competition entries. I understand that they're trying to stamp some kind of "branding" on this activity. But the "brand" of my blog is going to last a whole lot longer than any government campaign, and I don't need to clutter it up with other people's short-lived campaign artwork (particularly when that artwork conflates "star" and "blogger" as one word, ugh). Wouldn't a simple text link do the job as well?
Corporate attempts in Singapore to target (or should I say co-opt?) bloggers have been going awry lately (see what
Vanessa Tan
and
my brother
have to say). When are PR types going to figure out that not meaningful new media publicity does not come from, in the words of
Cowboy Caleb
, those who "[v]alue attending blog meetups, blog events, blog outings, blog sex orgies even MORE than actual blogging anything unique and interesting that you came up with yourself"?
Labels: Life in the internet age, Singapore stories